Blue Beige Beach Wedding Invitations | Seashells Monograms
Have you ever thought about having a beautiful destination wedding on the beach in the Caribbean or some other gorgeous tropical island, like Hawaii? We wanted to design a modern beach wedding invitation with the colros of the sea and sand. The Blue Beige Beach Wedding Invitations | Seashells Monograms Collection is the result. Our inspiration board is shown below.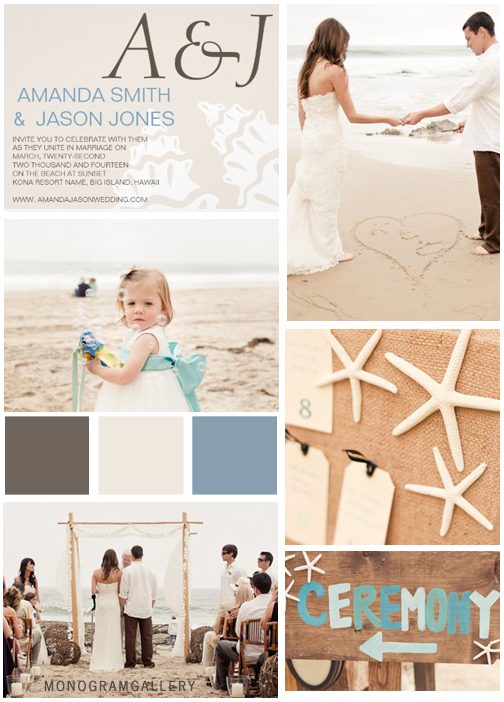 There is something extremely special about a lovely early afternoon wedding ceremony on the beach, listening to the rolling of the waves in the background. The color combination of these Blue Beige Beach Wedding Invitations, a light brown, beige and blue, is perfect for a modern beach wedding theme. Two white silhouettes of large conch seashells are on a beige background. The bride and groom initials are prominent in a dark brown, modern font and act as the third element juxtaposed to the white text of the beach wedding invitations text. A beautiful choice for your wedding stationery. MonogramGallery.ca designs the invitations and accessories and uses Zazzle to print and take care of customer service. Zazzle printing and customer service are excellent. Tens of thousands of brides and grooms have been happy customers over the 7 years the MonogramGallery has been using Zazzle.
Be sure to incorporate the beach theme into your wedding accessories, such as table placements with starfish, seashells and pebbles. Remember that simplicity is always elegant, and for a beach wedding the little touches are always the most important. Several DIY projects, like the "Ceremony" sign painted in shades of blue on a weathered wooden signpost are easy and have great impact. This Blue Beige Beach Wedding Invitations Collectionwith Seashells and Monograms by the MonogramGallery is a perfect way to invite your guests to your fantasy beach wedding.
Invitation: {Blue Beige Beach Wedding Invitation by MonogramGallery,}
Real Wedding Pictures: {Katy & Chad's Beach Wedding on Green Wedding Shoes}