Vintage Gold Wedding Invitations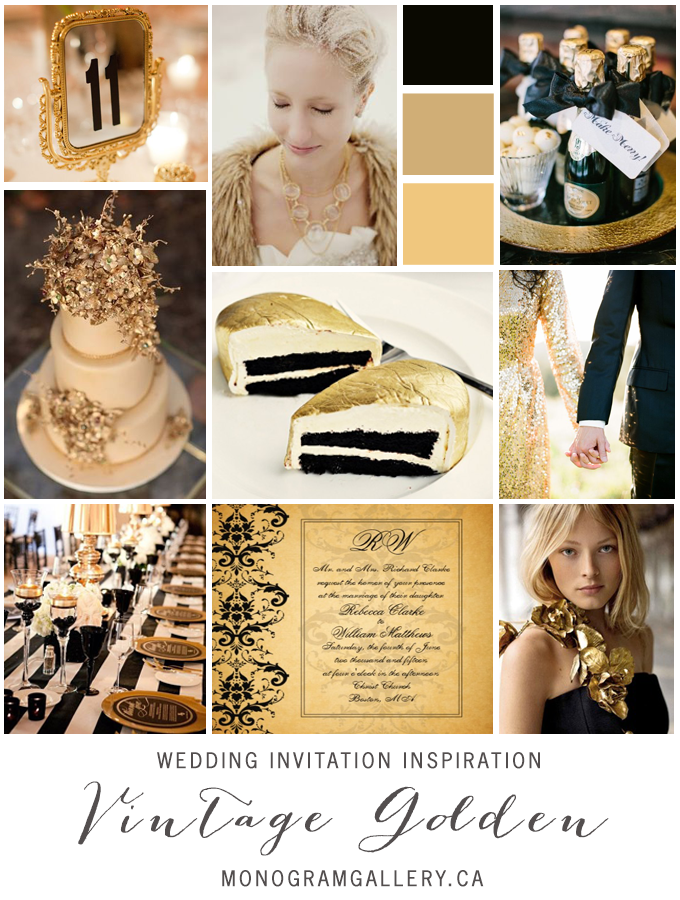 Happy 2014 everyone! I cannot believe that another year has come and gone. I wish you all the love, happiness, wealth and joy in the coming year! As New Years is usually associated with gold and lots of sparkles, I decided to showcase the lovely Vintage Golden Wedding Invitations by the Monogram Gallery in a lovely golden and super sparkly inspiration board! For all you bride-to-bes who are hoping to have their wedding in the ultimate style, I recommended showering your guests with sparkles, golden accessories and of course champagne (the golden jewel of all drinks!). This inspiration board is a lovely combination of bold blacks and stunning golds that compliment the gorgeous vintage gold and black damask wedding invitations featured above.
So roll in the champagne, sprinkle your cakes with golden dust, wear golden painted flowers in your hair, because today is your day, and you will definitely celebrate it in style!
The Monogram Gallery is a designer who uses Zazzle.com to sell and print their designs.  Zazzle provides 100% customer satisfaction, excellent printing quality and the unique ability to customize each item on the screen, so you can see it in real time before you order. The vintage gold wedding invitations and accessories shown above are templates to show brides what the products could look like. If you click on the items or links above and below, you will be redirected to the Monogram Gallery store and product page on Zazzle.com. From here, you are able to customize the text, colors and paper type you wish to choose.
If you have any questions, concerns or design inquiries, please contact us through our store on Zazzle, or leave a comment on the blog post. We are always happy to speak to potential customers in order to help with design customizations.
Photo Credits for the Vintage Gold Wedding Inspiration Board:
Top Row {Vintage Gold Wedding Table Numbers, Vintage Golden Wedding Bride,  Vintage Gold Wedding Mini Champagne Bottles}
Middle Row { Vintage Gold Wedding Cake,  Vintage Gold Wedding Mini Cakes, Vintage Gold Wedding Dress}
Bottom Row {Vintage Gold and Black Wedding Table Setting, Vintage Golden Wedding Invitations by the Monogram Gallery, Vintage Gold Bridesmaids Dress}