The classic black and white wedding will always be associated with sophistication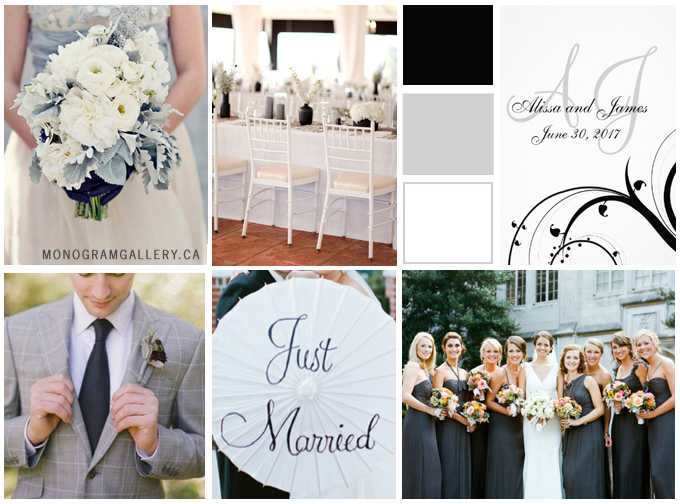 As a wedding invitation designer, I am always on the hunt for the latest wedding trends and themes, as brides and of course I, want and need to be up to date on whats popular. One thing that I have noticed, is how neutral colors are always prominent within the wedding trend cycle. There are constantly brides who dream and lust after planning a classic black and white wedding.
These wedding invitations pictured above by the Monogram Gallery, have so elegantly been designed to compliment a traditional black and white wedding, with an added twist of a soft grey. They feature a trendy black swirl, paired with a double monogram design that can be completely personalized. Click on the link below to be be directed to the customization page where you can change the wedding invitation information.
To compliment these wedding invitations, and of course form your black grey and white wedding theme, the pictures above should give you plenty of inspiration. For starters, decorate your tables at your wedding reception with grey and black accessories, such as vases and candles. Choose a lovely white flower to fill in the centers, such as paperwhites, kale, tulips, gladiolus, roses or dahlias.
For your own bridal bouquet, pair one of the mentioned flowers above with grey accents, such as silver brunia or grey ribbon. You may even choose to spray paint decorative leaves to add in as well.
For your bridesmaids dresses and suits for your groomsmen, choose a light or dark shade of grey to compliment your wedding theme. Groomsmen suits that feature a checkered pattern are always classy and elegant.
Last but not least, remember to have fun- this is your special day of course! I fell in love with this JUST MARRIED umbrella in the ever so cute Monterey script, which would be a perfect accessory during your wedding photo shoot.
Do not forget to browse the links below!
Top Row {Grey and White Bridal Bouquet,  Black White and Grey Table Setting for Wedding Reception,
Bottom Row {Black Grey and White Suit for Groom or Groomsmen, Just Married Wedding Umbrella, Grey and Black Bridesmaids Dresses}