Rustic Flower Bridal Shower Invitations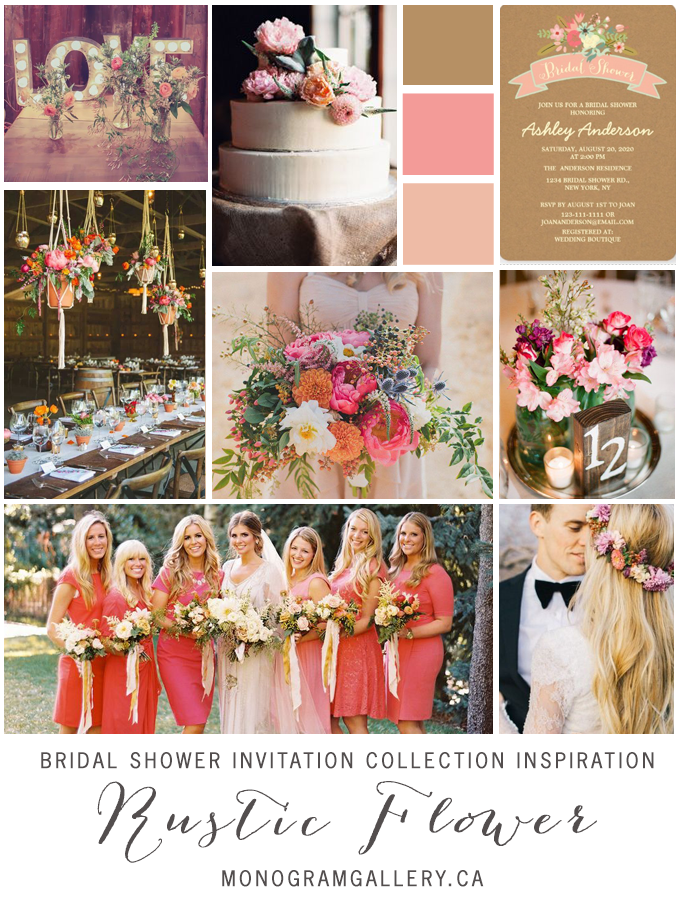 Planning a bridal shower can be just as exciting as planning your wedding, especially if you fallow through with your theme. This is the first time on Monogram Gallery that we have showcased  a bridal shower collection, which is a beautiful combination of rustic flowers and fancy scripts, designed by EpClarke for the Monogram Gallery. We have arranged an inspiration board full of gorgeous flowers and decorations that would be perfect fit for these invitations, as well a rustic flower wedding. We have fallen in love with the impressive floral bouquets in bright and exotic colours paired with the contrast of a rustic brown to create a naturalistic feel. With this theme, you can have so much fun planning where you wish to display your flowers, whether it be on your wedding cake, as an accessory to your table numbers or even in your wedding veil. These are just some ideas to think of while you plan your bridal shower party!
EpClarke and the Monogram Gallery are designers who use Zazzle.com to sell and print their designs.  Zazzle provides 100% customer satisfaction, excellent printing quality and the unique ability to customize each item on the screen, so you can see it in real time before you order. These rustic flower bridal shower invitations and accessories shown above are templates to show brides what the products could look like. If you click on the items or links above and below, you will be redirected to the Monogram Gallery store and product page on Zazzle.com. From here, you are able to customize the text, colors and paper type you wish to choose.
If you have any questions, concerns or design inquiries, please contact us through our store on Zazzle, or leave a comment on the blog post. We are always happy to speak to potential customers in order to help with design customizations.
Top Row {Rustic Flower Bridal Shower Table Decoration, Rustic Flower Bridal Shower Cake, Rustic Flower Bridal Shower Invitations by the Monogram Gallery}
Middle Row {Rustic Flower Bridal Shower Table Setting,   Rustic Flower Bridal Shower Bouquet
Rustic Flower Bridal Shower Table Numbers
Bottom Row {Rustic Flower Bridal Shower Bridesmaids Dresses, Rustic Flower Bridal Shower Head Piece}